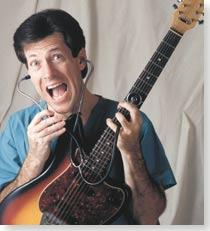 A fast-paced, interactive, participatory concert where Mr. Sprout performs songs from his award-winning CDs including Dr. Music, On The Radio, and all three American Heroes albums. This show includes songs about Helen Keller, Jackie Robinson, and Jonas Salk. Messages focus on self-esteem. Humor and spontaneity abound ... an excellent spark to foster school spirit.

"Among the hundreds of children's performances I have seen and presented, Jonathan Sprout's was the most engaging, fun-filled and informative!
Peter Lesnik, Director
Norris Theater, Palos Verdes, CA
"We feel fortunate to have had a musician and songwriter of such high caliber devote his extraordinary talent to our children. Jonathan's performances are a rare mix of child sensibility and adult compassion. By the end of both programs, he had children and adults alike dancing in the aisles. Our audiences, gave Jonathan Sprout standing (and singing and dancing) ovations."
Susan Richmond, Presenter
Emerson Umbrella Center For the Arts
Concord, MA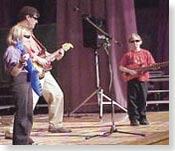 "The children were not the only ones who decided you were great. As teachers we decided yours was the best assembly we've ever had."
Barbara Hillman, Program Director
Wall, NJ
"You toured in six counties, had 21 performances and 14+ workshops ... you gave two performances at geriatric centers and one at an Alcoholic Center as well as a performance that included disabled/handicapped, nursery and developmentally impaired children. You were a fantastic success and so many would like to have you return. The evaluations say it all."
Sr. Carolyn Madden, Arts In Education Coordinator
Saranac Lake, NY
"The audiences of over 40,000 students, teachers and administrators attending your performances were delighted and excited and most impressed by your ability to combine your fun filled music and songs with wholesome values and discrete messages of loving, caring and kindness to each other as friends. The consistently high quality of the 100 performances and your consummate artistry earns high praise and applause from all of us at Project IMPACT. It was a great pleasure to work with such a committed (and organized) professional."
Lynne Kramer, Director
Project IMPACT, NJ
"Jonathan Sprout is a presenter's dream ... a highly professional artist with a personal concern for the success of the performance ... and truly a pleasure to work with! He provides an extensive (and creative) advance publicity packet ... Jonathan is a dynamic fusion of talent and enthusiasm, with great audience rapport and appeal. His upbeat entertainment consistently draws the largest and most enthusiastic audiences to our summer concert series."
Bonnie Bruccoleri, Program Supervisor
Cultural Arts Commission, Monmouth Junction, NJ
"Our National Theatre audiences were utterly captivated by your splendid songs and vibrant style...they all want more of witty, wonderful, super-duper Jonathan Sprout!"
Kathleen Barry, Director
National Theatre,Washington, DC
"In twenty years, I have never seen a program so well received by students."
Kenneth S. Ruhland, Principal
Mt. Laurel, NJ
"Wherever he goes, singer Jonathan Sprout stresses the value of hard work and patience to his audiences."
The Philadelphia Inquirer
"Your show at our school was a tremendous success! I have never seen all the teachers and students having such a great time together, as I saw at our assemblies. I have had more teachers and students alike tell me how awesome they thought the show was and asking if you would be able to come back again next year... Having performers like you come in makes my job so much easier and more enjoyable. God has blessed you with a tremendous gift!! THANK YOU for sharing it with us!"
DeAnne Gerner, Presenter
Jacksonwald, PA