Sprout Recordings is proud to announce the release of our first video from my latest CD, American Heroes #4.
The song "Powerful," written by Dave Kinnoin and me, is the story of Samantha Smith.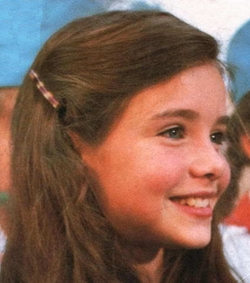 Samantha (1972-1985) was a bright and expressive schoolgirl whose optimism warmed the hearts of millions around the world. At the age of 10, when the United States and the Soviet Union appeared to be on the brink of nuclear war, she wrote a letter of peace to Soviet leader Yuri Andropov. His warm response and her two-week journey to his country inspired countless Americans and Soviets to rethink their hostile views of each other. As a powerful symbol of hope and "America's youngest ambassador for peace," she helped create an atmosphere of love, respect, and joy. Tragically, her life was cut short at the age of 13. Samantha was starring in a TV series called Lime Street that featured Robert Wagner. After shooting their sixth episode in England, she and her dad were on their way home when their plane crashed moments before its scheduled landing in Maine. She taught the world an important lesson: If people try hard enough, they can get along.
If you live in eastern Pennsylvania, you may remember the annual Peace Fairs in Newtown, PA in the 1980s. Samantha was a VIP guest speaker at one of the fairs. Friends Barbara Simmons, then Director of the Bucks County Peace Center, and Kathy O'Connell, host of WXPN's Kids Corner, each met Samantha. Barbara thought she was looking at a girl who had the makings of becoming perhaps the first female president of the United States. Kathy, too, was smitten by Samantha's poise and charisma.
You can view our video HERE
Rodney Whittenberg produced the video, which involved about 25 actors and support staff. It took us four months and numerous shoots to create. Makeup expert Julianne Ulrich spent two hours transforming me into Soviet Premiere Yuri Andropov.
Video Trivia for those obsessive-types like me who can't get enough of a story:
* at :06 seconds, notice "MAINE" planted in white lettering on the globe. It's actually sitting on Nova Scotia, Canada! This sequence was created by a geographically-challenged computer technician in India who was no longer available to help when we requested moving "MAINE" to its proper location.
* at :24 seconds, notice the Time Magazine Jilly (who plays Samantha) is holding. Rodney cleverly put a photo of me as Andropov on the cover of the actual issue the real Samantha was reading in late November, 1982.
* at around :49 seconds & 1:59 seconds, the background is the actual wording of the letter Samantha wrote
* at 1:02 seconds, fireman Owen DeCorte slays me every time with his "powerful!"
* at 1:38 seconds, Jilly/Samantha is holding a copy of the book Samantha wrote, Journey to the Soviet Union.
* at 2:03 seconds, not that you can read it, but... these are the actual words from the letter Andropov wrote to Samantha
* at 2:10 seconds, note Jilly/Samantha's girl scout badge vest. A little known fact, which I learned from communication with Samantha's mom, Jane, is that Samantha had been in girl scouting.
* from around 2:17 minutes, we have actual footage of Samantha's journey to the Soviet Union, including her visit to Moscow and Artek, a young pioneer camp on the Crimean Peninsula.
* at 2:37 seconds, Jilly/Samantha and I/Yuri are shaking hands. Samantha and Mr. Andropov never actually met.
* at 2:43 seconds, these two large 30" x 40" posters of Samantha are the ones I use in my American Heroes Five concert which starts off with the story and song about Samantha.
* at 2:46 seconds, tennis pro Sam Quill on the right side of the screen is holding a, well, ok ... a baseball in his left hand. He arrived with tennis balls that were the same color as the background screen. Green, I think. Rodney found a baseball for Sam to hold instead.
* at 3:18 seconds, that Yuri Andropov sure can dance! The real Yuri was actually once a Volga Boatman. Honest.
Please enjoy our video and share this with your friends!
Jonathan Sprout