This educational and entertaining program includes original songs from Jonathan's award-winning album, More American Heroes.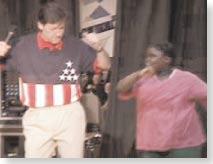 Moving stories and huge 30" by 40" photos are included. Heroes are: Susan B. Anthony, Johnny Appleseed, Orville & Wilbur Wright, Neil Armstrong and Sojourner Truth. The concert concludes with the inspiring "A Better World."
---

SUSAN B. ANTHONY (1820-1906) was one of the founders of American feminism. For more than half a century, she endured threats and ridicule for her tireless quest to reform the unfair laws that governed women. Crisscrossing the country at a breathtaking pace well into her eighties, she gave speeches and supported rallies for women's rights. She was arrested in 1872 for daring to vote -- an illegal act for a woman. A month before her death, she finished her last public appearance declaring "failure is impossible." Fourteen years later, women were given the right to vote.
"Men: their rights and nothing more; women: their rights and nothing less" Susan B. Anthony
Song: "Carry On" from the More American Heroes CD
---
JOHNNY APPLESEED (1774-1845), whose real name was John Chapman, planted apple orchards throughout Ohio and Indiana with seeds he carried from the cider mills of Pennsylvania. He often gave his seedlings to settlers and is credited with many extraordinary acts of kindness to people and animals. The Indians let him wander without harm wherever he wished, believing him dear to The Great Spirit. Without a gun and with scarcely any possessions, he lived a simple life in harmony with nature.
Song: "Johnny Appleseed" from the More American Heroes CD
---
ORVILLE & WILBUR WRIGHT (1871-1948)(1867-1912) achieved one of humanity's wildest dreams when they flew the first self-powered airplane. For years these self-taught engineers, who designed and made bicycles for a living, experienced failure after failure in the tedious testing of kites and gliders, but they continued to believe in the impossible -- that humans could fly. With perseverance, teamwork and faith in the scientific method, they eventually achieved the dream of flight on the windy sands of Kitty Hawk, North Carolina in 1903.
"When my brother and I began experimenting (with flight) in 1900 it was purely for the pleasure of it. We did not expect to get back a cent of the money we spent." - Wilbur Wright
Song: "When They Flew" from the More American Heroes CD
---

NEIL ARMSTRONG (1930- ), commander of the Apollo 11 lunar mission in 1969, was the first person to walk on the moon. Learning how to pilot an airplane before he could drive, his passion for flight led him to push the frontiers of air and space exploration. His quiet confidence, burning ambition and willingness to work tirelessly without complaint enabled him to become an outstanding pilot and astronaut. A deeply modest and private man, he left the limelight to become a professor of engineering, considering his extraordinary achievements to be nothing more than doing his job.
"That's one small step for (a) man, one giant leap for mankind." Neil Armstrong
Song: "First Man on the Moon" from the More American Heroes CD
---

SOJOURNER TRUTH (1797?-1883) suffered through slavery until the age of 30. A spellbinding preacher with a beautiful, powerful singing voice, she became the first black woman to travel across America denouncing slavery. She was a simple, honest and deeply religious activist who stood for freedom and women's rights. Her poise, self-confidence and fiery passion made her into an early national symbol for strong black women.
"I have as much muscle as any man and I can do as much work as any man... And aren't I a woman?" - Sojourner Truth
Song: "Aren't I A Woman" from the More American Heroes CD
---
Here's What People Are Saying About
Jonathan's American Heroes Three Concert:
"The most inspiring program we have ever seen. Our PTA invites him back every year. I was so inspired by Jonathan's program that I wrote and earned an IMPACT II Developers Grant on 'Heroes.' The grant enabled me to incorporate parts of his program into my kindergarten curriculum. My Grant held such high interest among my colleagues that 3 teachers from neighboring school districts replicated my HEROES grant so that the chain of knowledge re: Heroes was extended and strengthened mani-fold!"
Vivian Rose, Teacher
Bardonia, NY
"Jonathan's performances are sensational! He has an incredible gift that has inspired all of us at Kernsville Elementary to strive to be heroes. His visits are one of the highlights of the year."
Dawn Davis, Presenter
Kernsville, PA
"I have been teaching 29 years and this concert is by far the best school assembly we have ever had. The show was definitely "Disney" quality. But more important, the educational content and student participation was outstanding!
Robin Atkins, Teacher
Sewell, NJ
"Jonathan Sprout found a way to make social studies come alive with his informative and entertaining American Heroes Concerts. His focus on citizenship and values will make your school "a better place" which leads to "a better world!" Our students and staff look forward to the show every year!"
Mr. Chris Sylvestor, Teacher
North Wales Elementary School, North Wales, PA
"Sprout's music makes heroes come to life. His concerts get an A+ because they entertain and educate."
Dr. Dennis Denenberg, Author,
50 American Heroes Every Kid Should Meet
"Jonathan Sprout teaches children the importance of dreaming big through a musical history lesson of our American Heroes. He is our first booking annually!"
Glenn Noack, Principal, Whitehall, PA
(Where Jonathan has performed twenty-two times)